I have 5 fan/lights. I've been doing excludes/includes on them to remove security so I can use the Z-Wave Firmware Updated app to take them from 1.34 to 1.36 so I can disable the physical delay.
I've done 3 of them without out problem, one I cannot get to exclude (along with several other devices which have been causing me to do multiple Hubitat shutdowns and reboots the last several days - but that is a different problem) and one that looked like it worked, but the fan is not working. I noticed the fan LED was on and when I pushed it to turn it off it did go off. But when I tried to turn the fan back on the LED lit up but the fan didn't start turning. I am currently on Hubitat 2.2.6.139 but did the firmware to update this problem fan to 1.36 some while ago, so I'm not sure which version of Hubitat I was on at the time. I hardly ever use this fan so I'm not sure when it stopped working, but it was working as recently as of a couple of weeks ago or so and my daughter told me tonight that when she tried to turn it on this afternoon it wasn't working. (Which is probably why the LED was on).
Here may one other very relevant factor: yesterday my electricians put in 6 Red Dimmers. One was in the same room, but it is NOT on the same circuit. (I just verified that by throwing the breaker). I also threw the breaker as I saw an old, pre 1.34 thread that said turning the power off and on helped. That didn't work here either. I even tried to re-pair it again after turning the power back on with the same non-result - i.e. both LEDs blink green for a while, and then turn off, but the fan is still not working.
BTW, the fan was not on during any of those times if that is also relevant.
One other BTW, I did try to re-pair it to the module by holding button D and pressing E 3 times quickly. The 2 LEDs instantly turned green and started blinking. I waited until the blinking stopped and tried it again. Still nothing from the fan.
If I go into the child device in Hubitat and push "On" it says it is on and the LED lights up on the switch but the fan won't start. It is in a very high ceiling so it doesn't have any pull chains. Help, please.
Here are screen shots of the child device and recent logs.
It is off:


Now it thinks it is on:

Here are the logs: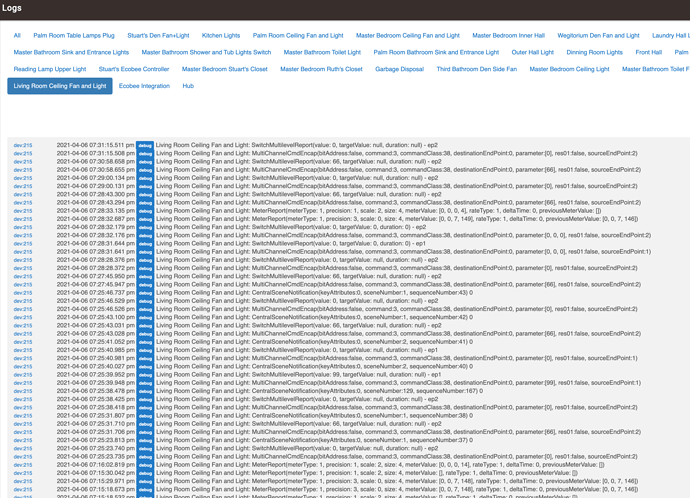 Dear Eric and Eric M. I'm adding tags to this email as it has been over a day since I posted it and no one has posted any suggestions as to how I can get my fan to start talking to the switch again. Let me know if this was the right thing to do vs. putting in a ticket.
Thank you,
Stuart
@EricM_Inovelli
@Eric_Inovelli