I wired up a LZW31-SN with a neutral wire setup to test an LED light fixture. I noticed that even when the switch is turned off at 0%, there is still a faint glow on the light. Using a multimeter, I measured 23V of potential between the load and ground (or neutral) wire when the switch is off: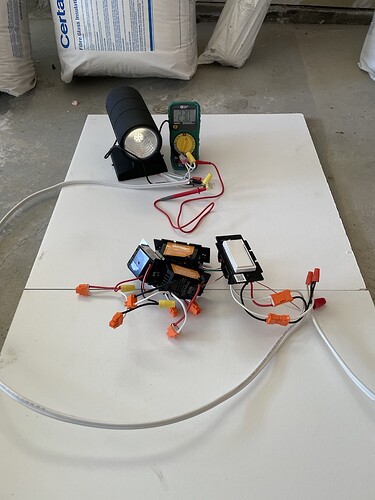 Here is a video showing the problem.
My understanding is that this is a common problem for switches that does not use a neutral wire, as they need to allow a small current through to power itself, and some LED lights require so little power that the small current is enough to turn it on. For switches that uses a neutral, the power can go through the neutral wire instead of going through the load wire, so it shouldn't have that problem – or at least it should be avoidable.
However, I am using a neutral wire here, and AC Power Type is set to 1 (Neutral) – it should be the default anyway, but I did a factory reset plus setting the parameter on the switch just to be sure.
I also tested another LZW31-SN I have just in case, which gave the same result. I also tested the LZW30-SN on/off switch, as well as a dumb LED dimmer from Lutron, both of which did not have the same issue (as expected). I believe that also ruled out any issues with the neutral on the circuit (back feed, etc) but I am pretty sure I also measured 0 potential between neutral and ground.
I was under the impression that because the LZW31-SN has a neutral mode I wouldn't run into this problem and would have more options when it comes to choosing LED fixtures, compared to, say, a Lutron Caseta. Am I wrong?