Yesss! Yes Yes yes! And am I to understand this isn't just a scene controller, but also a dimmer switch? Double yes!
My thoughts-
I agree the keys should be backlit. This should in addition to the RGB bars. The backlight should be neutral or warm white, and level-adjustable.
I think the dimmer overall should have two operation modes. Mode one is exactly as you specify- bottom buttons are basically the paddles of a Red dimmer, top buttons are scene control.
Mode two would be a multi-load device controller that would primarily work via associations. A larger number of association groups would allow up to 3 control channels. Pressing one of the large scene keys would turn that light on/off (per the LED), then pressing the dimmer buttons would dim it.
Most likely, each key could be assigned as scene control (Mode 1) or association control (Mode 2, which would take over some of its LED function).
So to illustrate the usage: I come in the bathroom and everything is off (no RGB bars), but I can see the switch due to the backlights. I tap the top button, its LED bar lights up, and the internal dimmer turns on the bathroom light. I tap the second button, its LED bar lights up, and by association a Z-Wave nano module turns on the lights around the mirror. I then hold the dim button, and since the second button was most recently pressed, it dims those mirror lights on the nano module. I then press the 3rd button, which is assigned as scene control only, and it triggers a scene on my hub which tells SONOS to start playing my shower playlist.
That said- this complicates the firmware quickly as now it must maintain internal dim states for each Mode 2 button (and thus accept association inputs for said button).
On the button layout- an idea; make this with 6 physical button switches. Then include a packet with a whole bunch of square and rectangular and larger buttons with different icons on each of them. So I could arrange it so (for example) the large square of the top two buttons is a single on/off button, then below that are four small square buttons that do various things.
If you want to get really slick- use the same outline and LEDs as the Red dimmers, but the space occupied by the paddle is the 6 configurable button areas. Then the same RGB bar can illustrate the bottom three rows worth of scenes.
For example: (this is a quick photoshop I did for another post, thus it looks nothing like the prototype image here):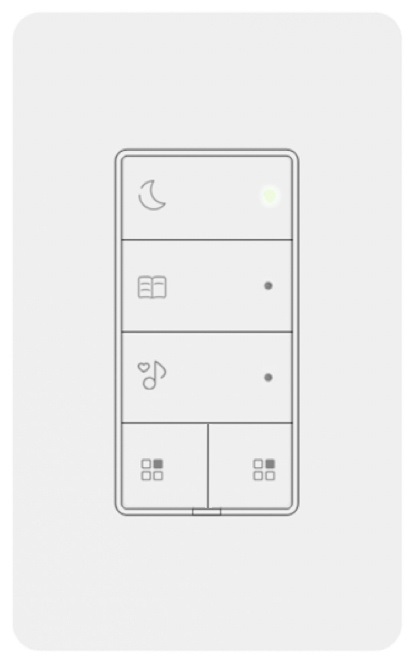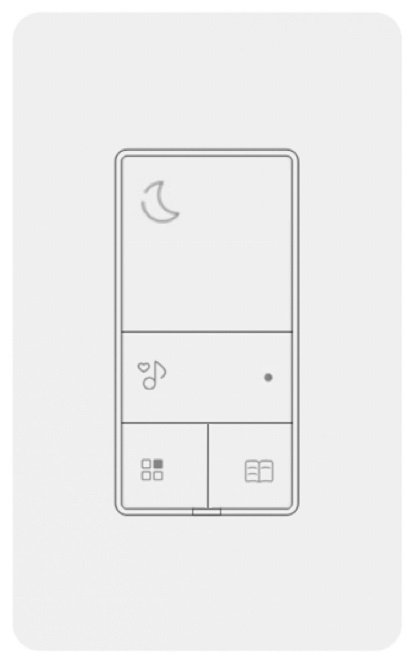 Basic idea is in the box it would include a whole bunch of those little buttons, you would snap on the ones you want to mix and match.
I agree that haptic feedback is important- it should be just like the current Red dimmer, where pressing the button makes a satisfying click. I think that should be a mechanical switch click, not a special haptic feedback engine within the device (that adds cost).