@Bry just going to outright tag you on this one and I hope you can tell me I'm not going insane LOL
When we moved in here there were 2 empty light boxes for wall sconces. 3 years later the wife finally picked some lights she liked. Each box only has a single 14-2 wire going into it which I wired to the lights, so I know for sure they're at the end.
The main switch in the entry is part of a 3-gang box. For this light there is a 14-2 coming from the top, a 14-2 coming from the bottom, and a 14-3 coming from the bottom. The whites on all 3 go into the same neutral bundle as the other switches in the box. Black from both 14-2 wires go into the common terminal (1 using push-in the other using the screw). Red and black from the 14-3 go into the other 2 screw terminals.
The other switch which is located in the living room on a wall that was added post contruction. It has a 14-3 coming in. Black goes to common, red goes above it, white on the other side (wtf??).
Here's the diagram of what I'm looking at.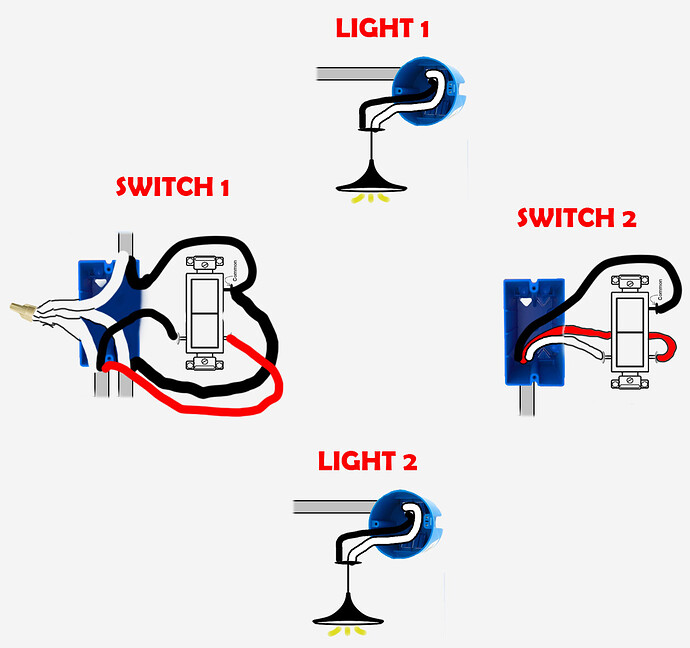 With everything disconnected on Switch 1, I get 0v between all wires and neutral. With everything disconnected on switch 2, I measure 70v (again wtf?) between black and white and also between red and white. 0v between black and red.
Switch 1 works properly and will turn the lights on/off. Switch 2 however will only control the lights when switch 1 is in the down position. If I put Switch 1 in the up position, switch 2 does nothing at all. I'm thinking the white and red are in the wrong position on Switch 2, but from what I'm seeing in the box for Switch 1 white should be neutral so that's just wrong.
Am I right in thinking there must be another junction box here somewhere? Possibly buried inside a wall when they added this extra wall to separate the entrance and living room? There's 1 plug on the circuit but it only has 14-2 in it. I'm not finding a 14-3 wire anywhere else on this circuit.