Hi everyone,
Recently I've decided to change all switches in my house from toggle to rocker switches, and as part of that install a few smart switches at key locations. In my case I'm using the LZW30-SN switches (I believe with neutral installation).
Please bear with me as this is the first time I'm taking on such a task and do not have much experience with wiring. I can share with you that I've already replaced multiple switches around the house, both single pole and 3-way, successfully. In fact, I've successfully installed one of the LZW30-SN as a 3-way switch, and both it and the dumb switch seem to operate correctly (including remote control). I'm using Hubitat as the hub.
The challenge I experience is with a 4-way switch installation. The 2 other are dumb switches. As far as I can tell, the smart switch is at the beginning of the line. The wiring of this switch looks pretty much identical with the working smart 3-way switch installed right next to it.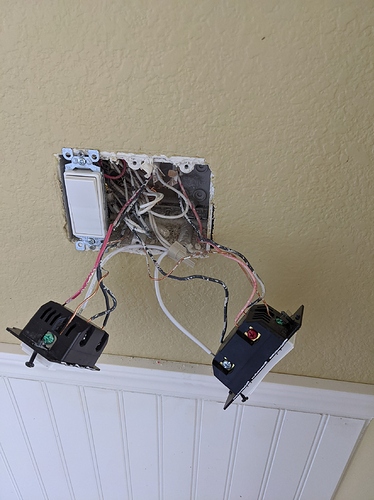 The working switch is to the right, and the one giving me trouble is the middle one.
I'm not entirely sure this is a wiring issue, could be configuration. What I experience is the lights not turning on, no matter which switch is being used (smart or dumb ones). However, when I flip any of the switches, I can see the LED indicator alternate between on/off. I've tried replacing the smart switch with a dumb 3-pole switches and the lights work fine, so I'm a bit unsure what might be the reason.
Any help would be appreciated. I can also provide additional pictures as needed.
Thanks!