So, I looked in all 3 switch boxes and I am pretty sure, that my wiring is laid out to match the line/load in the same box.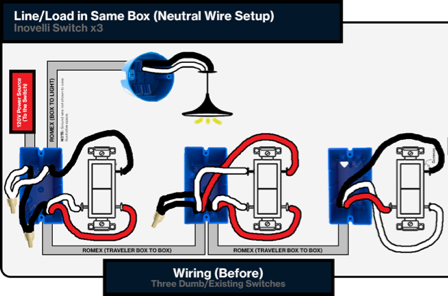 I love the capabilities of the switches, but what is currently most important to me is the LED - it allows me to determine at a glance if the house alarm is armed (fast red blink) or off (Solid Green). I also use it to let me know if the garage door is open (pulsing Pink).
I have the LZW31-SN on two other fixtures, one is a single and one is a 3 way. The situation with my 4-way setup is that I only need the switch on the right most box (the 3-way at the end - which contains only a line and 2 travelers), as it is the one in front of the door exiting my house… I am racking my brain to figure out how I would wire this up. The only example I have found was for 3 smart switches. I would prefer 1 or possibly 2 at most.
I came up with 3 possibilities (and am still working out the wiring).
Wire the Line and Neutral through to the final switch and have it control nothing (I could potentially put smart bulbs in the fixtures and use the switch to control them through SmartThings.
Wire the first 2 switches as a 3-Way, and pass the Line and Neutral through to the third
Wire only the 3rd box up as if there was no Neutral.
I have limited experience - though I have wired up multiple smart switches in my home.
Any help would be appreciated.