This thread serves as a discussion around Community Badges. What would you guys like to see?
It also is in regards to the following Thread and @Chris's comment: Coming Soon: Inovelli Rewards Program - We'd Love Your Input!
The way I'm seeing it now is that there are two categories:
Thread Facing Badges
Non-Thread Facing Badges
---
Thread Facing Badges
This is what is shown next to your name each time you post or comment. The purpose of these are to give a quick glance of the important badges so that people can quickly see important information about that person (ie: Wiring Guru, Home Automation Wizard, etc). In addition, it sparks interest in various badges (ie: Rewards Program, etc).
Ex:


Non-Thread Facing Badges
These would be badges that are not immediately viewable in each thread/post, but rather what is shown on the back-end where all badges are listed out. This is more of a, "look at how many badges I have" sort of area.
Not to flex on everyone, but this is what I'm talking about lol: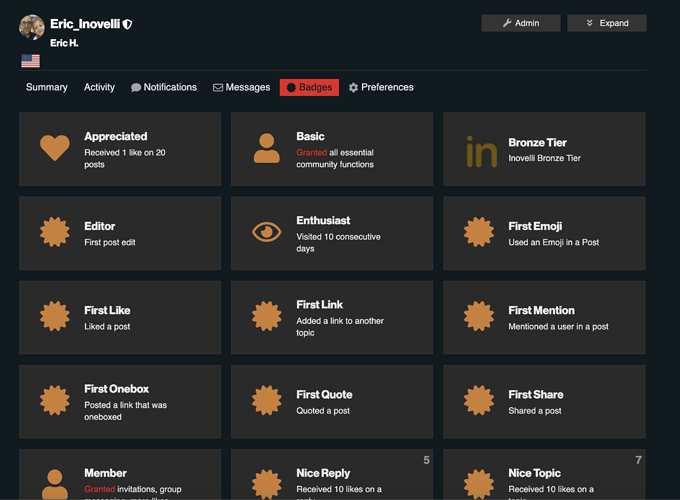 ---
So, with that said, let's talk about what you think are some good ideas for badges in both areas!