DRUM ROLL PLEASE
Our first Inovelli Employee Feature is: Courtney!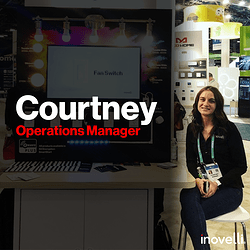 Operations Manager
What do you do?
A little bit of everything! I manage all our projects with our manufacturer, ship out orders, answer customer service tickets and oversee our customer service team, check-in RMA's, I do our accounting and pay the bills, etc.
What is your favorite part of your job?
Kicking off a new project! Also when I go to the forum and see the excitement that people have for our products. I know how hard we work behind the scenes so to see people appreciating that is lovely.
What is your current favorite movie?
I just watched "I Care a Lot" on Netflix and it was really good!
What is your current favorite song?
I've been listening to "Drivers License" by Olivia Rodrigo on repeat
What is your current favorite food?
The answer is always chicken! But I'm obsessed with a good chicken caesar salad right now.
What is your favorite smart home product?
My Wyze camera! I do also really love our fan/light switches I have in all the bedrooms in my house.
What is your favorite smart home automation?
I love being able to set a time to turn my lights on at home at 6:00pm in the winter, even if I'm away! That makes sure my dog has some light when it gets dark outside early and makes it appear that someone is home which is nice. I also like being able to double tap the light at the top of my basement stairs and it turns the family room and laundry room light on all at once!
What do some of her teammates have to say?
"Courtney is literally the glue that holds Inovelli together. From finance to logistics, to project management, she has her hand in everything and we wouldn't be the company we are without her."
"Courtney is a jack of all trades, bringing expertise to every single aspect of the Inovelli team."
"Courtney was incredibly helpful during my first few days here. She helped me fully understand what Inovelli is all about!"
"Courtney is as good at logistics as she is as spitting Cardi B verses… a little too good."
Now that you've gotten to know Courtney a bit, you can ask her questions for yourself! Drop your questions below