Eric Maycock
What's your title and what do you do?
CTO. I am over the technology branch of the company. This includes the development of new products, fixes and enhancements for current products, and the integration of our products with various 3rd parties.
What is your favorite part of your job?
Bringing a product from idea to reality with the assistance of our amazing community.
Tell us a little about yourself!
I am currently living in Utah with a wonderful wife and 2 cute little boys (WAF is currently very high). My boys are 5 & 8 and are your typical rowdy and energetic kids. I have a bachelors degree in Information Systems and Technology with an emphasis in software development. I enjoy spending time with the family and playing with all things technology related. Smart Home products have been a great hobby of mine for some time and I love being able to work on them every day for work.
What is your current favorite movie?
I don't really have a favorite, but some of the movies I have recently enjoyed are The Greatest Showman, Thor Ragnarok, and Peanut Butter Falcon. My childhood favorite is definitely the Goonies. "Hey you guuys!!"
What is your current favorite song?
Currently, as of the last few weeks, I would say "The Night We Met" by Lord Huron
What is your current favorite food?
Has been and will always be a good burger. If you are ever in the northern Utah area, the Burger Bar is the best I have ever had.
What is your favorite smart home product?
The Inovelli Fan + Light Switch. It is the first product that we really involved beta testers on and it turned out to be one of my favorite products to use. You can tell that our community really helped create something special here.
What is your favorite Smart Home Automation?
I really enjoy the simple automations that make life more convenient every day. Like a "Good Night" routine that turns off all the lights, closes the blinds, locks the doors, and adjusts the thermostat. Love these types of automations. A cool and unique one I currently use is with our Inovelli Light Strips. Based on different holidays my light strips get set to different colorful effects. The kids really love them and the neighbors are always impressed when they come over.
You asked questions and he answered them here!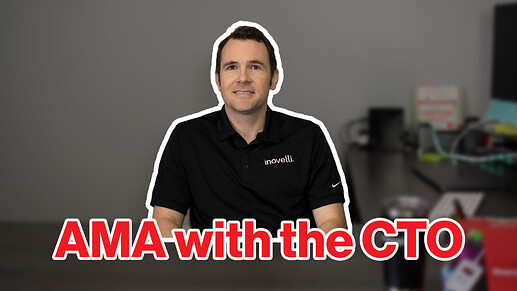 What does the team have to say about Eric?
"Maycock is not only the brains behind all of our best product features, he's also coolest level 10 wizard I've ever met."
"Eric M. is the true go to member of the team for all things z-wave. He's able to answer even the most obscure questions asked by our community and he does it with a smile."
"Fun fact - Russell Crowe's character in, "A Beautiful Mind" was inspired by Eric M's coding skills. He's our secret weapon and we wouldn't be half the company we are without him."
"Eric M is the glue that holds us all together! Whenever we don't have an answer for something, we always turn to Eric M. One of the smartest people I've ever met!"
"It's great to have Eric Maycock on the Inovelli team! He is the one that makes all our crazy ideas reality and we couldn't do it without him. Thank you!!!"
"He's the Morpheus of the Inovelli Matrix, all-knowing and invaluable."
"Maycock's expertise and high standards is what helps us launch exciting new products."
Now that you've gotten to know Maycock a bit, feel free to ask him your (non-tech support) questions below!