I was trying to wire up a Blue switch into a 3-way circuit yesterday and was experiencing a strange flashing in some permutations of the smart and dumb switch (forgot which specifically

). I don't think it's a "flicker" where individual bulbs are kinda rapidly changing in brightness; this is the whole lighting circuit going mad. Some switch states it's solidly on, some off, but others…: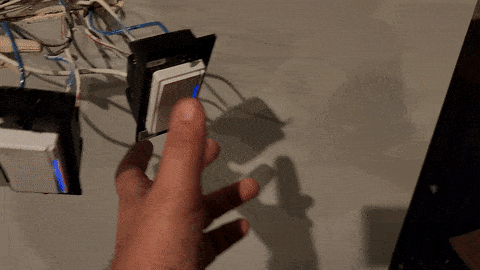 (mp4 version)
The switch was configured to be an on-off switch in a multi-way (toggle) setup with the 'pre-setup' button presses, and the wiring is as follows

I tried swapping the load and traveler lines (though it shouldn't change anything, they're equal to the dumb switch…) and retightening all the wires into the Blue switch, but no change, still the flashing.