Soooooooo after more testing, I found a few more things
Location REALLY matters (and network heal works): after moving the pi to the office again, healing network and re-running scenes using various methods (HA script, HA scene, node red logic), the delays were pretty bad again. So it must be when in office, the direct connections to the hub drop so everything is being funneled through 1 node. When I moved Pi back to kitchen and ran network heal, and then re-ran same tests, everything was noticeably faster.

The fastest way to complete my scene (turning OFF 1 light, turning ON 4 lights) was using the following node red logic below. Since HA cant multicast, having those waits in there really make a difference and actually perform the scene faster than if I take those wait nodes out. Also tried one service call node turning on all the lights and one more to turn off the 1 light. Tried same as below but removed the waits. Tried running a HA script. Tried running a HA scene.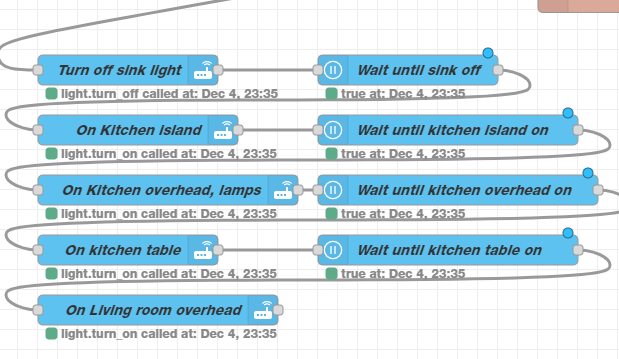 Heres video off the 'OFF' scene and the 'ON' scene. The lights that turn off last in the OFF scene are 2 wyze smart bulbs that must go through cloud, so that was the slightly longer delay there.