I know, kinda long, but please read all if you can to help…
So I am not sure this is an inovelli issue, but I kind of tried everything else.
The issue is that a scene automation can be very slow/delayed. So I have a basic scene in my living room/kitchen where if I press down 3x on the paddle it will turn OFF 4 lights that are attached to red dimmers, and turn on 1 light.
Sometimes it will be super quick and accomplish this in a few seconds, other times it will take 20+ seconds. Heres a video of it taking 21 seconds: https://youtu.be/ujUJ03qaYC4
Heres a picture for refernence on the lights.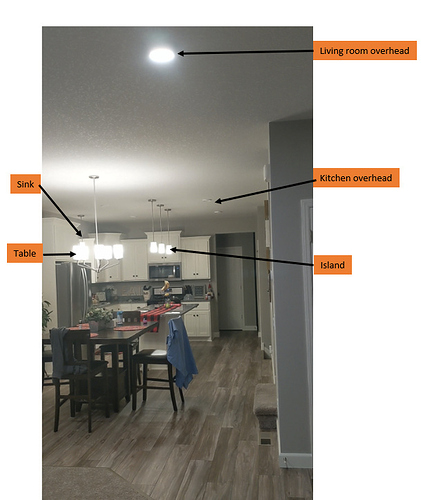 The video starts as soon as activated the scene and you can see nothing happens for 3 seconds, then 3 of the lights turn on almost at same time, then nothing for 10 seconds before the kitchen overhead lights turn on, then few seconds of nothing before the single light over the sink turns off . The video ends right as this happens if you look close.
Heres what I tried
Different Z wave sticks (Nortek and AEOTEC)
Different home assistant install. Tried it through a virtual PC and through raspberry PI
Different Z wave implementation through home assistant. Version 1.4 and OpenZWave Beta.
Take home assistant out of equation and use Hubitat
Programming the scene through Home assistant script and not node red
Factory reset the Z wave sticks and just added the 5 red dimmers involved in the scene
Tried pairing switches to Z wave hubs secure and non secure.
All 5 red dimmers have been flashed to 1.48. I've sent dim speed to 0, set AC power to neutral and set switch config to load only on all of them. All other parameters are the same and haven't been changed.
Any thoughts as to a parameter I could try changing on the switches?
I don't get why sometimes the scene will work super quick and other times, slow. And its never replicatable. Sometimes lights 1,2,3,4 will go quick and then 5 will be slow. Other times 1 will go right away, then long pause, then 2,3,4, then long pause, then 5.
The only Z wave devices I have are these inovellis so I cant rule out this is just a Z wave "standard nusiance" that I cant do anything about. But when posting this in Home Assistant forums, every is saying the time this is taking isnt normal.