I have a recessed LED at the top of my stairs and 3-way switches at the top and bottom of the stairs. I installed the LZW31 at the top of the stairs where the line comes into the junction box. After turning the circuit breaker back on, I noticed the LED was faintly on. I proceeded to manually program the LZW31 for neutral+dumb switch. LED still faintly on. I pressed the up/on button 1x and the status bar became full/bright blue but the LED in the ceiling did not change – it remained faintly on. I pressed the down/off button 1x and the LED turned on briefly at full brightness, then it went back to faintly on and I heard the switch click. I flipped the dumb switch at the bottom of the stairs and the same thing happened – LED turned on full brightness then off and the LZW31 clicked.
Here's a photo of the box at the top of the stairs with the LZW31 wired: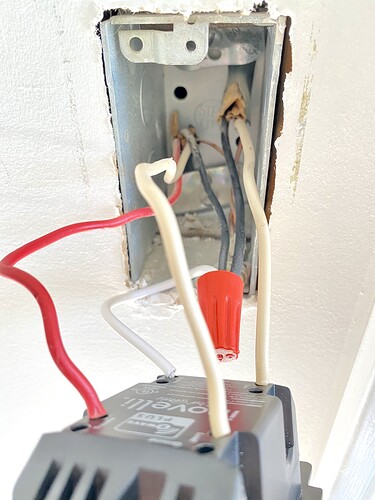 Note that the black wires in this box are the neutral. They were wired together behind the existing 3-way switch and I confirmed that the white wire coming from the 2-wire cable in the upper right side of the box is the line with a non-contact voltage tester.
This is the box at the bottom of the stairs with the dumb switch: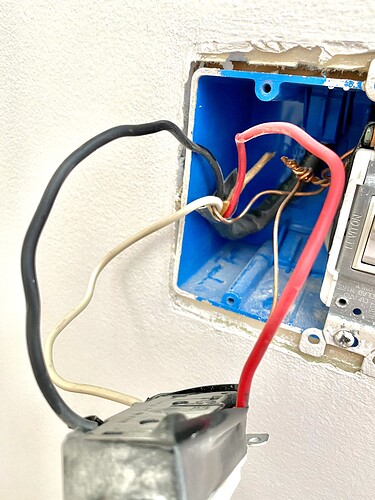 I thought I was working with this wiring setup:


The house was built in the 70's so maybe the line actually goes to the light first, then the top switch (hence the reversed black and white wires from normal), then to the bottom switch? If that's the case, and the line is not in either box, I guess the LZW31 will not work in this arrangement.
Or is this more likely to be an LED compatibility or parameter settings issue? Any ideas or suggestions would be greatly appreciated!