I've figured out most of the wiring here on my new home. The electrician certainly did some corner cutting and a few of the switches I wanted to automate don't have neutral wires, which is making my life rather frusturating. None of the colors of the wires are reliabile at all, so I've had to mainly figure this out as I go.
I have run into another situation I am hoping to get some help on. In my master bedroom, the main lights for the room are on a 3 way switch. One as you enter and one near the bed so you can switch it from bed. This is the one I want to automate.
I've uploaded photos showing what I have. SWB-B has just one 3 wire coming to it from SWB-A
SWB-A has a 2-wire coming into it from I think the lights? or perhaps that is from the panel. I can't tell exactly. Either way it's looking like I don't have a netural wire in there. Is there a way I could make a non-neutral switch work here? or am I better to try to run a new neutral wire from where?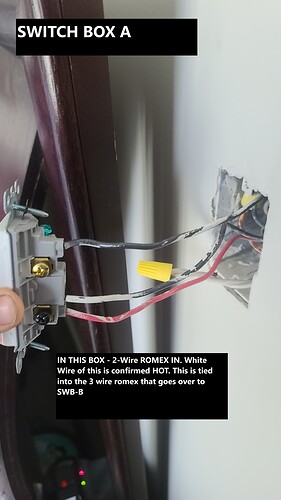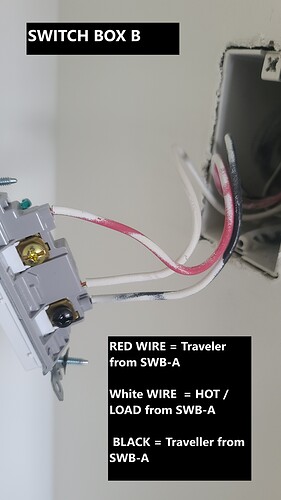 Crappy part is a year after my house was built (built late 2019) the new code requires a netural in every single box (argg).
I've uploaded pics here. Can anyone think of away to make this work? or am I shit out of luck. In one of situation I have a box in my house with no neutral wire. I attempted to use the non-neutral Invoelli switch but it didn't work well at all. I don't think there was enough load as it only ever sort of "flickered" and I had to use a AOTEC bypass which didn't work all that well.
Thoughts?