Replaced standard 3 way switch with a new LZW31 Black Series Dimmer. This in a circuit with another standard 3 way and a standard 4 way switch which had been operating fine.
Trouble is:
The LZW31 will not turn off/on the lights from paddle nor Smartthings.
Both of the old switches still work fine.
The LZW3 will dim both using paddle and in Smartthings.
It connects to Smartthings fine and changes light status to off/on but the lights are not affected.
I have set the neutral (yes) and AC type parameters (3 way toggle).
I did have some trouble setting the parameters from the switch but worked fine in Smartthings (could be my inexperience using the switch).
Took some doing but I managed to identify all wires (using continuity testing) so pretty sure I know where each wire goes/what it does. I did not have a neutral in any box so had to pull one in from another box. See attached diagrams.
Read some forum items so removed all LED bulbs and left only 2 100w incandescents.
Going to recheck that my wiring and my diagram matches but not sure where to go past that!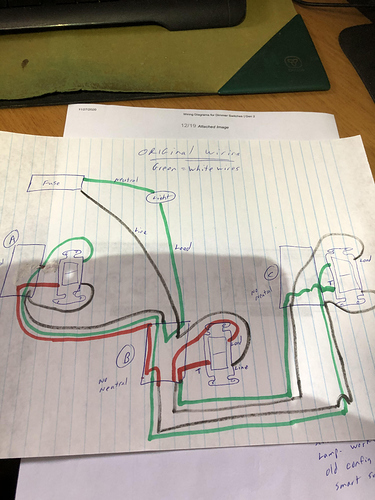 Original Wiring Diagram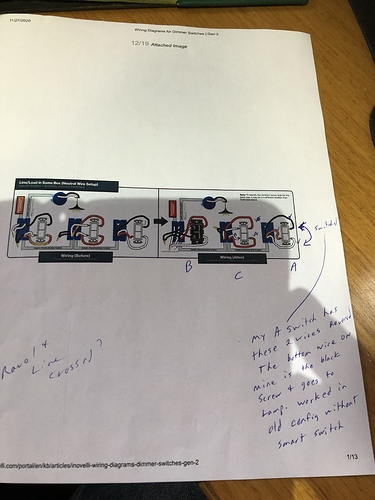 Inovelli diagram I used as model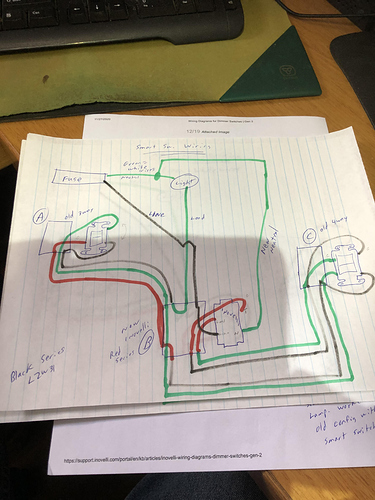 New switch wiring