Hi, So I am one of those DIY enthusiast who is learning "on the job". I have a wiring/installation question/dilemma that I want to run by this awesome community. Note, I have installed a couple of TP link dimmers and couple GE Z-wave on-off switches.
So, coming to the problem, I am trying to install black series dimmer in a 2-gang box. One switch is powering the ceiling lights and other one is powering wall outlet. I am replacing the switch that powers ceiling lights obviously. Now, what I am seeing is that there apart from line/load/ground/neutral wires, there is one more wire that is "shared" by both switches. It was looped around the screw on my existing dumb switch. I tried to install black series trying to do the same, that is loop that wire around screw on dimmer switch. However, it appears that the screw on dimmer doesn't hold this well and the either the load wire or the looped wire comes out when I try to tighten the screw. I am not sure how to get around this situation. I had similar setup for one of GE z-waves I installed which was also in a 2 gang box and I was able to easily loop the other wire around screw on that switch.
So, I am wondering how to proceed with this installation? Should I cut the loop wire and use a small wire, one end of which goes into dimmer and other is connected to the cut looped wire via connector nut?
Here is the picture. I am sure this helps visualize the issue more than words above.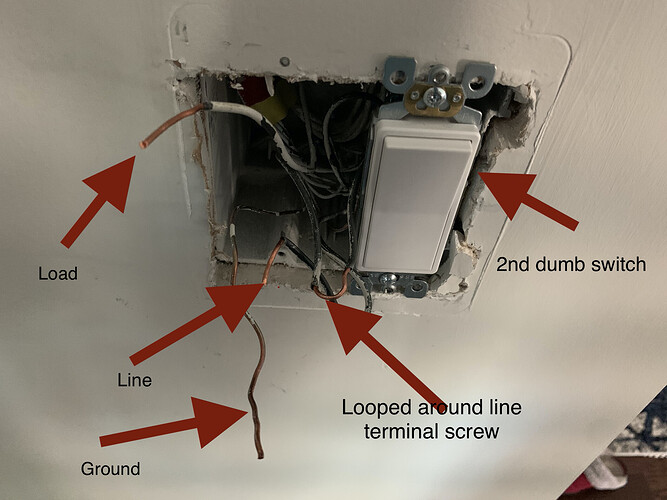 Edit: None of the switches in this box are 3-way.