I have a Red On/Off switch in a 3-way configuration with a dumb 3-way switch powering a single light. It is showing extremely odd behavior but I think I've narrowed it way down.
The Inovelli switch will not send power out of the red traveler terminal to the dumb 3-way switch.
If the dumb switch is in the position such that it expects power coming in over the wire connected to the Inovelli Load terminal and then I turn on the light at the Inovelli switch the light will come on.
If I test Load to Ground I see 110Volts as expected.
If I then turn the Inovelli off the light turns off, I no longer see voltage at the Load terminal, but I also don't see voltage between the Traveler and Ground. This leaves the dumb switch "dead" if you will. There's no voltage going to it.
I made a video (google drive or youtube) that shows something similar.
I could outline a few other scenarios but I'll stop for the moment. Just like a normal dumb switch, shouldn't either the Load or Traveler show voltage at any point in time? Otherwise, how does the dumb side work?
Okay, so I've done a lot to troubleshoot this. Here goes (in no particular order):
I've replaced the switch with a new one.
I replaced that new switch with an even more newer one

I have a few lying around
3 switches all exhibit the same behaviors

Removed the inovelli switch and replaced it with a dumb switch

the two dumb 3-ways acted like they should
proves (maybe?) that the wiring is set up correctly.

Removed the nodes from my zwave network and re-added

back when I thought remote control was part of the problem
in my most recent troubleshooting I don't even bother pairing the switches

Open all the electrical boxes on the circuit and draw a diagram of the wiring (see below)

I thought, hey maybe there's some weird wiring happening here.
it seems pretty normal to me - nothing too crazy?

Removed all 23 devices from my zwave network, reset the controller and repaired everything

this was possibly overkill and very much not fun

"healed" the zwave network

again, when I thought zwave had something to do with this

signal test (hold config for 5-10 seconds then release)

they all pass
results were solid green, or solid green then red

which I believe means the device isn't paired)

Drew a whole diagram of this corner of the house

again, when I thought the issue was zwave network related

Made a quick video
Shocked myself zero times.
Speculation time:
Is it possible the switch detecting a short on the traveler and killing the power to it? If that's the case how come the circuit works with 2 dumb switches?
Next steps? What else can I test?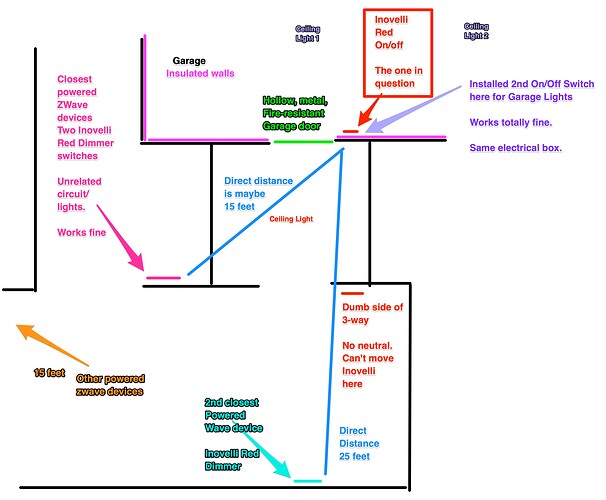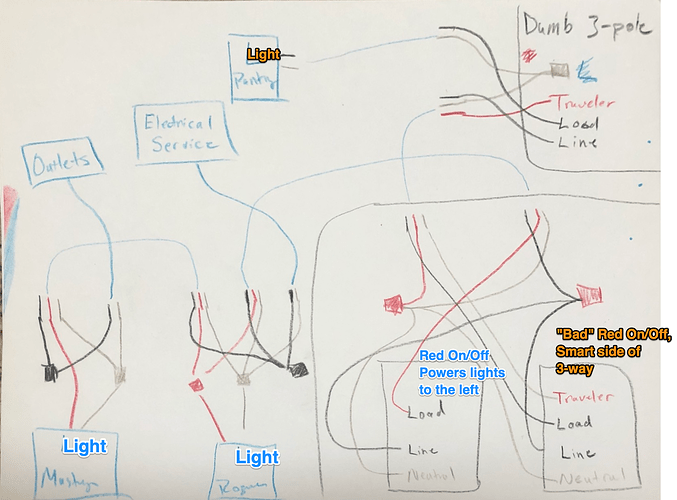 Uploading: IMG_4750.jpg…