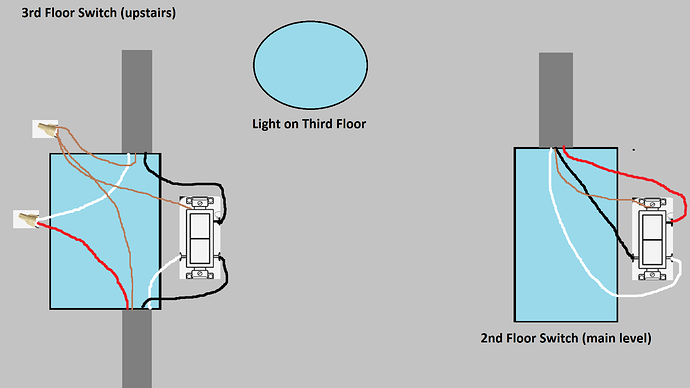 I have the above wire diagram. From my understanding, I believe I have a neutral wire, but am not completely positive as my wire diagram does not match anything posted for installation. I'm not positive if the light is inbetween the two switches, or if the hot wire goes right to the light, then the 3rd floor switch, then second.
The wire color codes are weird as well, as normally it's my understanding the red wire is the traveler, but it is most definitely the common wire on the second floor… Then this red wire is twisted around the white wire…
I'm lost as honestly to me it's kind of looking like the wires are rigged incorrectly. Does this circuit look correct to anyone else? I will open the light up should this be deemed helpful.
(Also ground is correctly grounded on these switches, I just drew a line to the switch as there was no ground screw)