Yes it does energy reporting
Edit: parameters 18-20 are power related
https://community.inovelli.com/docs?topic=10349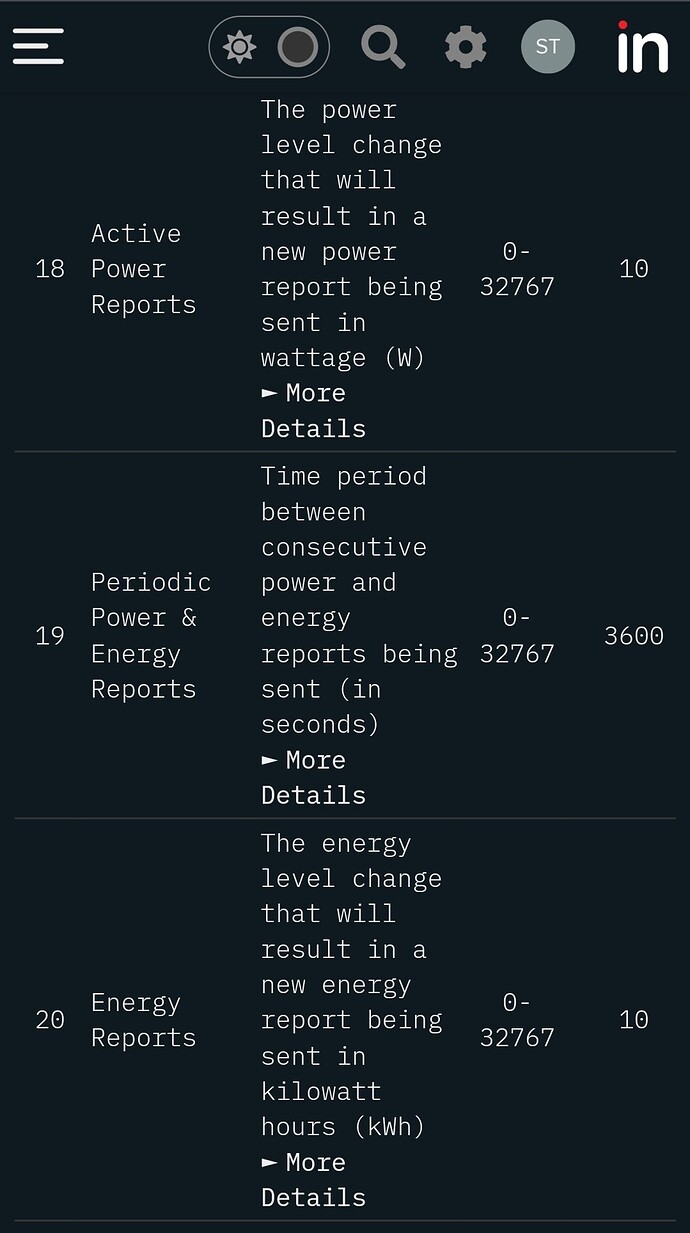 If the switch isn't controlling the power, then it really doesn't matter what it's controlling through binding. So if the LED power supply is hardwired to whatever circuit it's on, and the switch is just controlling the LED controller through binding then you're good.
EDIT: I just saw your diagram and the other post about the current exceeding the switch's rating.
I'd hard wire your power supplies to be always powered, so the line into the power supplies doesn't come into the switch at all. Use the switch with no load attached and binding to zigbee LED controllers, and then home assistant's adaptive lighting will handle controlling the LED controllers to set the strip color based on time of day. The 2 downsides I'm seeing here are losing the ability for power monitoring and not being able to use something like WLED for a controller in case you wanted to do some of their cool effects with the strip.
hi there community. just curious to know if the 2 in 1 blue series can support ceiling fans when operating in the on/off mode? The inovelli site shows this as an option for the red series on/off, but i didn't see it mentioned anywhere for the blue series. thanks for your help.
Originally it was going to support small motor loads, but the current UL certification does not allow Inovelli to state it works with motor loads. The upcoming fan switch would be the alternative.
ah that makes sense, appreciate it. i missed that fan switch when i was browsing the threads
Thanks Mike. Thought I responded, but vanished (phone!).
I intend to analyze the loads to ensure nothing comes close to the switch rated or inrush currents. Most of the planned circuits are already pre-wired and will be for fairly short strips. The largest being less than 5m. Also want to maintain the local Blue switch for human interface and if the hub is not available. I assume if there is Zigbee binding between the Blue switch and Zigbee LED controller, will still have local control of On/Off and dimming. Just as you demonstrated with your bulb array. Just no temperature control. But if the loads are excessive, then can hard-wire.
While most of the strips are under cabinets and over counters, and will be adaptive CCT lighting, I will probably add one strip over some cabinets for effects and maybe notifications. Was already looking at WLED with a QuinLED-Dig-Uno board. The WLED integration is already in HA. Will play with the variances on a workbench before installing them in the kitchen (not a good place for a lab!!). Was just wondering if any of the beta testers or Eric's team had done anything like this. With a little engineering and experimenting, I think this would be another good Blue use case. More switches!!!
with Eric's update email that the switches are in customs… IM GETTING EXCITED!!!
Email?? I didn't get the email and I have a preorder.
Yeah I'm noticing the CRM that we use is kinda janky. I exported all orders with their email addresses and every time I go to send the mass email, it says, "x amount of people cannot be added due to marketing preferences". I never set any marketing preferences for the list and followed all the CAN-SPAM rules but I still can't get the ones that dropped off the list to be added.
Is the email you're using for this forum a good one for me to email? I've just been emailing people who aren't able to receive our mass email from my personal account.
Sorry about the confusion.
I just came to the thread to see if there were any updates since I hadn't gotten any emails either.
For me my forum email address will work great!
Same here…haven't received any emails, but happy to be added to the email list! The forum email for me works great.
Does your forum email work for you? I'll add you to my personal list

Could I get on that separate list for emails? I haven't gotten them either. My forum email works too. Thanks Eric!
I also have not been getting the emails, and my forum email would work too. But maybe you could just post any emailed preorder updates to this thread too so that everyone doesn't need to message individually.
Looking forward to the switches!
+1 on this. Can my forum email be added to the list? I have a preorder but never received any email announcements in the past.
Same for me, I have a preorder in but haven't received an email. I keep coming to this page to get an update. My forum email works great

Everyone who wants an email…maybe just message @Eric_Inovelli separately. This thread is getting clogged up with "please add me to the email list" messages.