Hi Everyone, this is my first post.
I'm a big fan of the red series switches, and I'd like to order more, but I need some help before I order my next batch.
I have a 4 gang box near my front door. I have attached a wiring diagram that I made myself (at this point, you'll probably be able to tell I'm not an electrician!)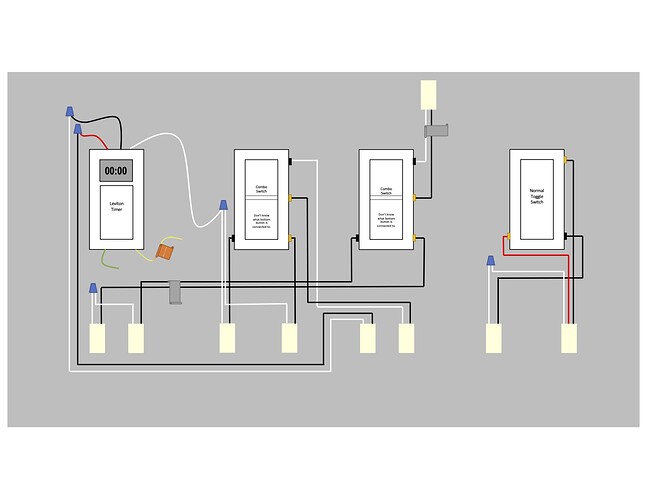 The first three switches are on their own circuit, and the far right switch is part of a 3-way on a separate circuit.
I would like to replace the leviton timer, and the two combo switches. The one problem I'm having is that the upper buttons on the 2 combination switches turn lights on and off, but I have no idea what the bottom half of each combo switch does! We have been living in this house for 5 months, and we can't figure out what the bottom half of the two middle switches do!
So I guess I need to figure out the following:
how can i figure out what the bottom half of those combo switches do
if they do nothing, how do I close them off so they aren't an issue
how would I wire in three red series switches to replace the leviton timer and the two combos?
Thank you in advance!
J.P.