I have one of the 2nd gen switches (black version). I saw that these should work with pretty much any 3-way wiring when using a dumb switch so I figured I would finally be in luck. Unfortunately it seems like I'm having an issue.
I wired it according to the below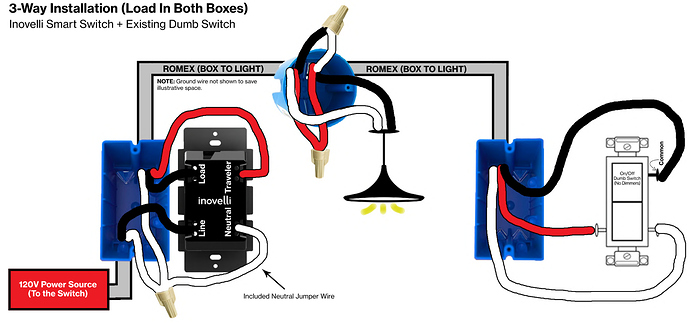 My wiring prior to installing the switch (when using dumb switches) is (I believe) as follows
…see below. I guess since I'm a new user I can only put 1 pic in a post
Unfortunately it's not working. There's two lighting appliances on the circuit. Initially one has 3 LED candelabra style lights. The other has two CFLs. When switching, the lights just blink to full brightness
, then dim, over and over while the relay on the smart switch looks like it's resetting itself. The LED on the switch cycles from blue to green to red and back. I swapped the CFLs for LEDs and I'm seeing the same problem. These 3 ways are the only thing keeping me from replacing all my switches.