Let me just start with this, so I don't get the "canned" responses for people.
I have the latest Hubitat hub. Before today, I had 20 Leviton dimmers, 9 Leviton switches paired with Hubitat. I got my new Inovelli dimmers and switches. I manually excluded all Leviton devices from Hubitat. Reset z-wave on Hubitat. Shutdown hub. Pulled power from hub for 30 seconds. Powered back Hubitat.
Using Inovelli driver from Hubitat/inovelli-dimmer-red-series-lzw31-sn.groovy at master · InovelliUSA/Hubitat · GitHub
Ok, wire up 1st Inovelli dimmer. I get to this point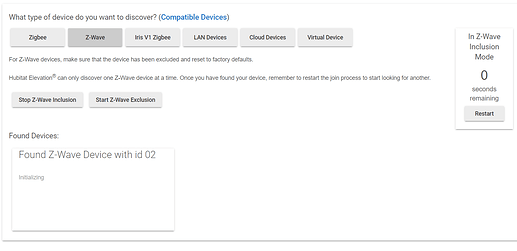 Nothing in logs, device never comes online. When I put Hubitat in exclusion mode, I get "Unknown device excluded"
Tried 3 other dimmers (bought 20 dimmers, 10 switches). All the same, stuck on "initializing". Now at this point I have excluded, factory reset, rebooted Hubitat, cut power to inovelli devices via electrical panel, 4-5 times. I have also tried from ground-zero, both z-wave "secure join" modes (all secure and locks/garage doors only). Resetting everything to ground-zero before switching these modes.
This is extremely disappointing. Already pulled off the tabs on some of the dimmers. Wondering if I should be requesting a refund and go HomeSeer? The 2 WD200s I have seem to work flawlessly, I can unpair and repair over and over again. Connected one of the Levitons I just unpaired this morning, paired no problem. I've tried 4 Inovellis dimmers straight out of the box, brand new… All the same… stuck on initializing during z-wave inclusion.