Introduction
As mentioned in the 2019 Product Roadmap topic, this thread serves multiple purposes.
Allows us to keep you updated on the project status (either good or bad)
Allows you to participate and help us develop amazing products with you
Enjoy each other's company and have fun talking home automation
How this initial post will be laid out is in five sections:
Project Overview
Initial Hardware & Software Requirements (edited to remain up-to-date)
Timeline (edited to remain up-to-date)
Pinned Ideas & Shout-outs (edited to remain up-to-date)
Weekly Recap
Housekeeping
DATES & FUNCTIONS ARE NOT SET IN STONE: Just a reminder that all dates and functions are sometimes fluid. We have to make choices based on feasibility, opportunity costs, and overall timeline. I will be as transparent as possible on these decisions, but just a heads up, they may not always be exciting.
NO IDEA IS A BAD IDEA: Ok, some are, but honestly throw out anything that you can think of. If we use your idea, we'll credit you and send you a free device, so take that shot!
VERSION 1 VS VERSION 2: Some ideas may be fantastic, but may not make the cut for the first version of the product. Once the product is locked in from a function standpoint, we'll keep a tally of V2 ideas and then once the product is produced, we'll move the ideas over to the Suggestions & Wishlist section.
Ok, let's get this party started!
---
Project Overview
The purpose of this project is to provide an alternative to the fan switch that's currently in market and take the ideas we have around our Red Series Dimmer Switch and create a stand alone fan switch.
So not only will this be a dedicated fan switch, but we're setting out to create the Next Generation of smart switches. A switch that not only looks visually appealing, but one that can control your entire house at the click of a button. Or one that can visually notify you if your garage door is left open past 10pm. Or how about one that you can adjust without needing a HUB? Did I mention it should monitor energy as well? Pretty sweet!
This is a huge project, but we're excited about it and finally we'll be able to create something from scratch that is truly community built as most of the features we're requesting are driven from you!
Project Name - Windy City
"Windy City" has a double meaning as well, which I'm sure you can guess. @anon14959390 is from Chicago, which is nicknamed the, "Windy City" and a fan switch produces wind. I wish there was a cooler meaning, but that's all we've got.
---
Windy City - Hardware Requirements
Here are the initial hardware asks we came up with. Pretty decent start!
Hardware - Initial Mockup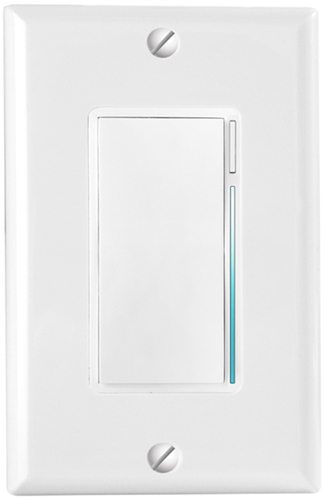 NOTE: This will match our Dimmer Switches in look/feel.
Hardware - Dimmer Switch (Look / Feel)
Responsive Paddle: rests in a neutral state (tap up = on // tap down = off & hold up = dim up // hold down = dim down)
Config / Favorite Button: button should be used for configuration of the switch as well as scene control.

Should be able to be held (for config)
Should be able to be tapped (for scene control)

RGB LED Bar: should measure the % of how much the switch is dimmed

LED's should be RGB
LED's should also be able to be dimmed

Colors: dimmer switch will be offered in white, but the paddle should be able to be replaced to change colors (almond, brown, red, black, grey, etc)
Slim Design: depth of switch should be as slim as possible so that it can fit into metal boxes.
Air Gap: UL requirement
Hardware - Features & Capabilities
700 Series Z-Wave Plus: use the best Z-Wave module on the market
3-Way / 4-Way Ready: should work in multiple different settings in a 3 & 4 Way setting

Should work with an auxiliary switch
Should work with an existing dumb switch
Should work with another smart switch

08/07/19: Due to the complexity here, we have to push this out to V2. Most fans are single-pole installations and this is what drove our decision at this time. If you have a 3-Way setup, we suggest using our remote in the meantime.

Power Monitoring: switch should measure the power consumption
Z-Wave Distance Estimator: should be able to estimate the signal strength of the Z-Wave signal and notify via the LED bar (see Appendix - Section C)
Instant On: when tapped 1x (and scenes aren't used), switch should turn the bulb on instantly (no delay)
CFL & LED Compatibility: minimum buzz and flickering
Non-Neutral: switch should work without a neutral wire
---
Windy City - Software Requirements
Below is what we came up with for the software requirements. Welcome to the next level!
Z-Wave Scene Control: 11 scenes (Z-Wave Central Scene Command)

10 Scenes via Tapping the Paddle up or down
1 Scenes via Tapping the Config Button

Notifications via RGB Bars: RGBW Bars should be able to change colors based on events set up by customer (ie: if window sensor is opened, RGBW bar changes to red)

User can choose to sync the bars or have them show separate notifications

RGB Bars Config: bar should be able to change colors and also dimmed to the customers favorite level
Auto Timer: switch should have a timer that shuts the switch off after a certain amount of time
Easy Config: switch should be able to be configured via the config/favorites button.

There should be infinite customization via parameters in the firmware, but also set customizations for HUB's that do not allow parameter changes (ie: Wink)

Internal Relay Disable: internal relay should be able to be disabled locally and via Z-Wave
Set Min/Max Level: minimum fan level / maximum fan level
Ramp Rate Configuration: ability to change how fast/slow light turns on
Default Fan Level: ability to set the default fan level based on time of day
OTA Ready: ability to update firmware via OTA
Associations switch should be able to be associated to other Z-Wave devices
---
Timeline
Ah, everyone's favorite part. When is this flippin thing going to be released? Great question – here's the high-level of what happens leading up to the first release of the timeline:
We present a PRD (Project Request Document) that has all of the above info in it
R&D (manufacturer) analyzes the PRD and we go back and forth until we can align on 90% of the product
Initial Timeline is released and remaining 10% of product features are added/cut along the way
Again, just want to throw this out there – I don't have a crystal ball so I can't predict things that come up along the way. Trust me when I say we're trying our best to get things launched on time.
Pre-Initial Timeline Milestones:
Present PRD: Completed 01/17
R&D Analyzation: Completed 03/12
Initial Timeline Released: Completed 03/12
Timeline (Estimated)
The initial timeline will be shown below and will be updated weekly (if needed).
Design Phase: Not Started (estimated completion date is 01/08/20)
See Weekly Recap for notes around the delays

Structure Design (Rendering, 3D Mockups, and Printed Mockups): Not Started (est. completion date is 09/27)
Hardware Design (PCB Design & Testing): Not Started (est. completion date is 10/18)
RF & Antenna Design: Not Started (est. completion date = 09/13)
Firmware (For Basic Functions Only): Not Started (est. completion date is 01/08/20)

Tooling: Not Started (est. completion date is 11/22)
EVT Phase: Not Started (est. completion date is 12/05)
DVT Phase: Not Started (est. completion date is 01/09/20)
Certifications: Not Started (est. completion date is 02/26/20)

Z-Wave Certification (Technical): Not Started
Z-Wave Certification (Marketing): Not Started
FCC Certification: Not Started
IC Certification: Not Started
UL Certification: Not Started

Mass Production: Not Started (est. completion date is 03/16/20)
Arrival on Amazon, Inovelli.com , etc: Not started (est. completion 03/23/20)
---
Pinned Ideas & Shout-Outs
Here are the ideas from the community. We sincerely appreciate them, we love them, and we couldn't create the products we do without them. So, thank you for your input and let's continue to innovate together and change the home automation category for the better (NOTE: if an idea is crossed out, it's not because it wasn't valid, nor was it something we didn't consider – we've discussed it internally or with the manufacturer and unfortunately it was not feasible).
Hardware
Software
---
Weekly Recap
Every Wednesday, we have a meeting with our manufacturer to go over the various projects (status, issues, timeline, etc) and below I'll provide a recap as well as edit the sections above so we can all keep track. If you have any specific questions you'd like me to ask, feel free to tag me and let me know so I can ask them as well. The weekly cadence for updates will be Thursday mornings.
October 3, 2019: This project is slated for a May 2020 release as we are prioritizing a remote launch for March/April and the remote firmware/hardware team is the same as the switch team. More to come, but there likely won't be too many updates on this project until later this year.
July 16, 2020: Unfortunately, we had to put this on hold temporarily due to capital funding. This will be slated to resume after light strip and remote are finished or more capital is infused for R&D.