Hi,
I have an LZW31 running v1.48(updated today using a stick before adding to Hubitat) that doesn't show up in the list of available devices when trying to set up a button controller to work with my Hue white and color outdoor flood light added to Hubitat through hue integration app and updated yesterday before adding to Hubitat. I can operate the light through the Hue app and the device settings within Hubitat.
Here's what I see in the list of available devices:


Here's what I see in the device settings of the LZW31: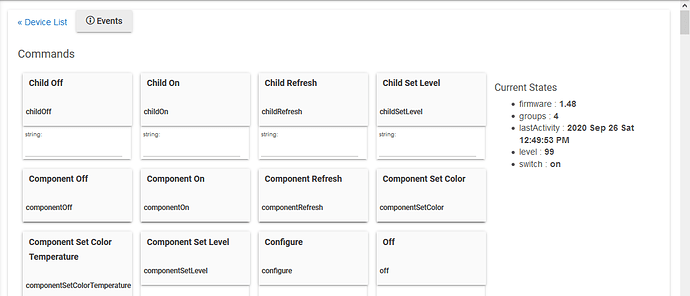 Actions taken so far, I have hit the refresh button, the configure button, power cycled the switch, disabled the internal relay, enabled the internal relay, rebooted the hub, rebooted the Hue hub, stood on one foot while spinning a plate on a stick, created world peace (it was brief so you may have missed it), and scratched my head in wonderment. That last one really didn't help, by the way.
I also tried doing this in the Simple Automation App and it doesn't show up there either. This switch was just taken out of the box today, updated using the z-wave stick method (ran the update 3 times), and I gave it 10 minutes before excluding it from the pc controller/stick.
I have eight LZW31-SNs that I've never had an issue with and this really has me stumped. Any help would be appreciated!