tl;dr;
My LZW31-SN configured through an aeotec z-stick gen 5 and using Home Assistant keeps toggling between unavailable and available and I can't figure out why! Any advice?
More details:
I've installed the LZW31-SN switch and as a "dumb" lightswitch it works perfectly. I've connected it to my aeotec z-stick gen 5 and it seems to connect fine to that. I've installed the z-wave stick on my mac mini which is running home assistant version core-2021.11.4 in a virtual machine. I was able to get it installed with the z-wave js mqtt add on and everything was working fine. After one day, though, home assistant could no longer find the switch and it showed as "unavailable" with device status "dead". Even during this time, it worked as a dumb switch that I could turn the light on/off physically.
I tried googling and couldn't find anything and struggled for several hours to reconnect it. I finally was able to do an exclusion and remove it. I then added it directly to the z-wave stick before plugging it back into the mac mini and configuring it through home assistant. Again, it worked perfectly well for about a day. At that point, I was in home assistant trying to turn the light switch on/off through the UI and noticed it wasn't responding…I checked its status and it showed as unavailable again. After a few minutes of playing with it, it now shows as available, but I'm not able to use HA to turn it on or off as the button is grayed out (the way it is when it's unavailable).
After a bit of time, the device was then back to good health, showed available and I could turn it on/off via home assistant. Later that night when my automation ran to turn on the light at sunset, it became unavailable again. You can see the list of events here - the device is called "Entrance Switch Porch Front Lights".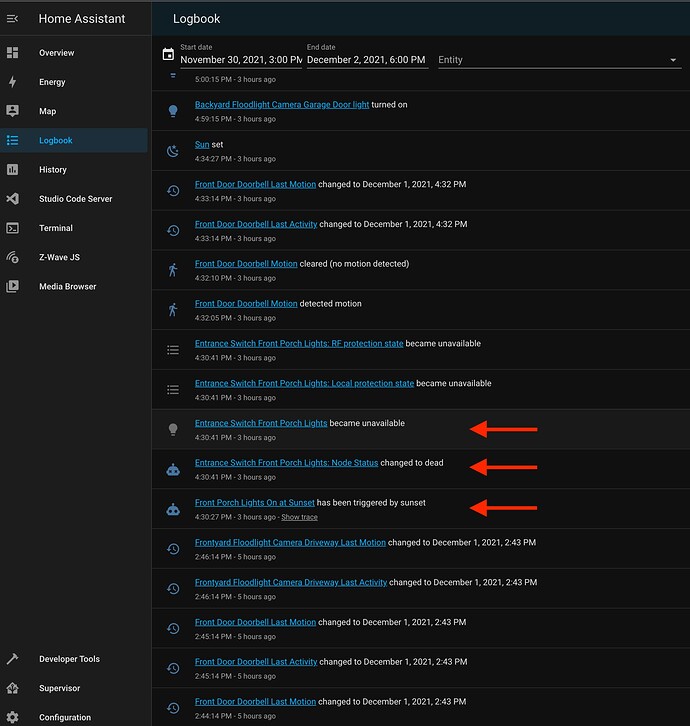 Then a few hours later, available, then unavailable, and back and forth. I didn't do anything myself during the time that it was available or unavailable to trigger a change.


I have two automations running - one turns the lights on triggered by "sunset" and the other turns the lights off at midnight.
I can't figure out if this is an issue with the switch itself, the z-wave stick, or something with my home assistant configuration. But considering it works fine for a period of time (I can turn the light on/off with HA controls, I had an automation to turn it off automatically at midnight, etc) and then just stops working, I'm wondering if there's a bad connection some place. Anything you can do to point me in the right direction would be very useful!
(This is my first installed Inovelli switch but I have 3 more to install, so I'm hoping to figure out what I'm doing wrong before adding more switches to the problem.)