Overview
As I'm building out the Wiki, there are some areas that have given me pause to take some time to build out properly as they will become valuable tools for not only troubleshooting issues, but also for a better overall user experience.
The first tool that's currently in development is the bulb/fan compatibility app that should be completed in a couple weeks tops. The logic is completed, it's just a matter of physically building it.
The next tool is a Wiring Wizard that will hopefully walk you through how to wire your switches and also tell you what switches are compatible based on your wiring.
Examples would be Nest and ecobee thermostats, Lutron Wiring Wizard, etc – where they walk you through setup.
THERE WILL BE A HUGE DISCLAIMER THAT WE'RE NOT LIABLE AND USE AT YOUR OWN RISK – TRUST ME!
Ok, back to the topic at hand.
What I'd like to do is work with whomever is interested to develop the flow and logic behind this Wiring Wizard.
---
Wireframe / Logic
The first place to start is the logic on how this will come to life in an app form. We will be using AppSheet just like the Bulb/Fan Compatibility App, so it will be a live URL and/or embedded in Discourse (forum).
The way I see it is there are two options to start this flow:
User selects their switch and figures out how to wire it
User selects their wiring and figures out what switch is compatible and/or if they can use a dumb switch or if they need an auxiliary switch
Example 1 would look something like this: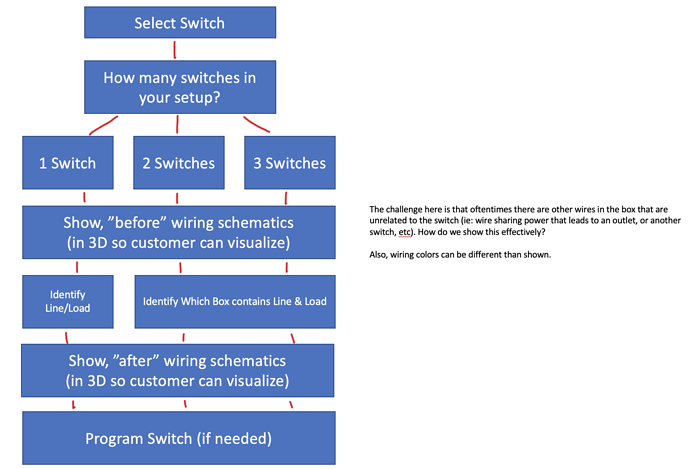 Example 2 would look something like this: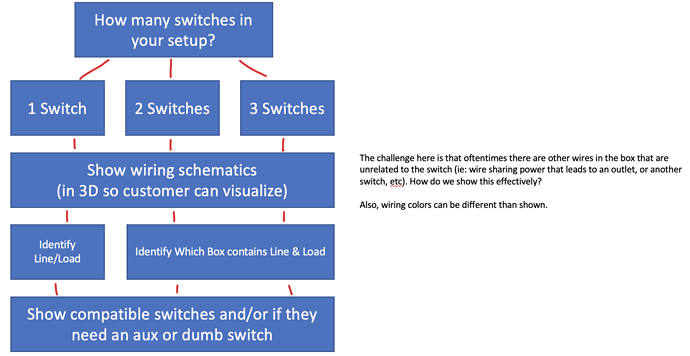 Thoughts?
Once we're aligned here, I can move to building out a more visual look/feel to share with the actual developer.