so cool. I pre-ordered back in Feb, I can't wait to get this.

The pre-order link is at the top of the first post on this thread.
@Eric_Inovelli the wait is killing me. I like the video, now even more anxious to get my hands on them!
Will the receiver that lives in the canopy be suitable for an outdoor placement? My fan is in a covered location but is definitely damp and humid here in Florida?
Hmmm… this is a great question. I would lean to saying no, they would not be suitable for outdoor placement as they are not rated for outdoor use as we didn't go through any IP rating testings. Also, I think the temperature range may limit outdoor placement as it is: 32-95F (0-35C).
Hello all, I am so excited about these switches! Everytime I read the forum I find myself ordering another switch.
I live in a house built in the 50s, so we only have fans in each room. But as soon as I receive these lights I will be installing recessed lights and new fans! So excited!
Any issue with two fans in the same room? We would purchase two different units. Is the "switch and controller" in the paired at the factory? We want individual control of each fan independent of each other. Is there any RF interference?
I'm glad these finally seem pretty close! We're in ceiling fan season now and I'm really glad I'll finally be able to have Siri adjust my fan at night instead of sitting up in bed, fumbling for the chain and pulling the wrong one so the lights come on in my face. lol
So, if I am reading the manual correct, I can have 2 different notifications displaying on the LEDS at the same time with this switch. 1 with the light LED and 1 with the fan LED. Is that correct?
They are paired at the factory, yes, so you should be ok

Yes, this is correct - I'll take a video shortly!
Edit: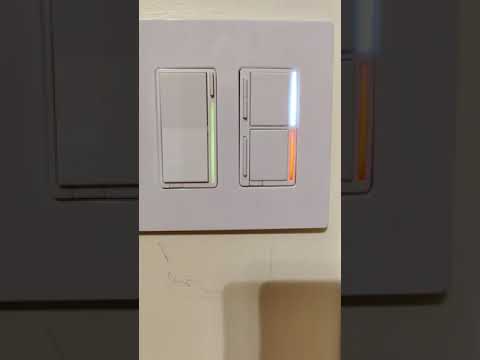 Top Notification = White Chase
Bottom Notification = Red Pulse
Hey everyone – just wanted to comment to let everyone know the original thread has been updated. We have some incredible news in that Mass Production is scheduled for May 29th or May 30th. There was a slight delay from the 25th in that there was a little bug we caught prior to MP. Likely no one would have found it, but who am I kidding, you guys find everything, so we fixed it

Anyway, we're going to leave pre-orders up until the 29th as a thank you to our current pre-orders (in case you need more) and to anyone who was on the fence.
Starting the 30th, the switches will be full price: $69.97, so stock up now!
Thanks so much to our beta testers, our internal team and to everyone who believed in us. This is the first Z-Wave Fan/Light switch to hit the market and we're excited to be a part of history with every one of you.
-Eric
Dang! Can't wait to see pics of your setup

Appreciate the support – it really means a lot!
Build the best product, and the people will come. You guys have been crazy involved and I can tell you are passionate about your product!
My SON is actually the most excited about this. He has wanted a "flashy switch" in his room since I installed our first red series dimmer in the master bedroom. I'll see if I can film his reaction when I tell him they are on the way.
Same!
My 8yr old son has been asking me daily since January when the light switch is coming. He is very excited! I give him all the updates from this thread.
You have some excited customers!
Updated the thread with the first pics of mass production! More pics will come Monday. First steps here are to test the Z-Wave chips via what's called a jig (test 10 at a time) and also I didn't realize this, but they have already started to produce the canopy modules so they are testing those out for quality as well.
Pretty cool!
Fantastic news! Thanks for the update.
Shoot missed the pre order. Been crazy with work and even had the page left open with it in my cart.
Glad to hear mass production.
I have been quietly lurking in this thread ever since I placed my pre-order in January. A few minutes ago I decided to go back and see what day I placed my order… no email.

I vividly remember adding them to my cart and starting the checkout process but I guess I must have gotten distracted and forgot to finish placing my order!
Oh well… 2 switched purchased (and confirmed this time)!