@Eric_Inovelli @EricM_Inovelli (Sorry I forget which Eric is which so I tagged you both!)
Unable to update firmware on LZW30-SN or LZW31-SN devices
Current various firmware versions from 1.36 to 1.57 on the 31's and 1.20 I think on the 30's.
Following directions outlined here
Using latest version of ZWave PC Controller from SimplicityStudio, Aeotec Z-Stick Gen5+
UNABLE TO UPDATE FIRMWARE - ERROR - unable to receive=0x01
After many hours of fruitless attempts I finally stumbled across a workaround!
The directions for including the device on the controller tell you to cancel when prompted for the security inclusion type.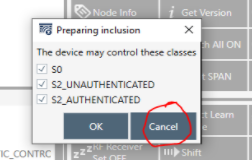 When attempting to update following these directions it hangs here.


Here is the log.
SOLUTION
Instead of cancelling the security level prompt, UNCHECK both S2 options and leave S0 CHECKED. (If you leave either of the S2 options checked you get a packet size error when attempting to update the firmware)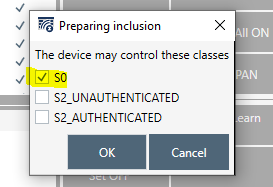 By including the devices using this option I was able to update the firmware on a couple dozen LZW31's and a handful of LZW30's using this method without issue.
I see a lot of people with Hubitat some with HomeAssistant using the Zwave2MQTT to update the firmware are having what appears to be a similar issue. Perhaps this solution will work for them also.
Hope this saves someone some time.