I'm trying to do an association on group 2 between 2 Red Dimmers ("RD") to create a 3 way situation with the Z Wave Association Tool in Hubitat. I have a C-7 hub. The switches are wired per the Inovelli diagram for line and load in different boxes. I think the problem might be that I brought them into Hubitat with different security levels. I think I did the Hall side one at 0 because I want to install an RGBW bulb once the Inovelli's get back in stock, but may have brought the 2nd (Den side) one in at S2 as I just blew past that screen. Is there any way to change the security level without excluding the switch and then re-including it? Would different security levels cause the association to not work?
I'm attaching screen shots of the details of both. In one you can see the Den Side says S2: 128 while the other one (Hall side) doesn't have anything like that. I've also attached the association. The Hall side is the line side so I made that the source and the Den side with the load the Destination. I've also attached a screen shot of the association.
A final thought is that I also have 2 rule machine rules for the Den Side. 1 rule to turn on the light to 40% via the config/favorite button and another to turn it to 100% when pushing the 1 button. (I'm not clear on why I need to create the 100% rule, but that is another story). Could that be causing the association problem?
One other thing: I was able to create a Rule Machine rule for the Hall switch as a button device that 1 pushed turns on the Den switch and 1 held turns off the Den switch. That works, but with a noticeable lag (that already caused the family to complain about). In Hubitat I set the Dim and Ramp Speeds to 0, 3, 0, 0 for the Hall side switch and 0, 3, 1, 1 for the Den side switch.
Thanks,
Stuart
Den Side Light. Has the Load. Destination for Association.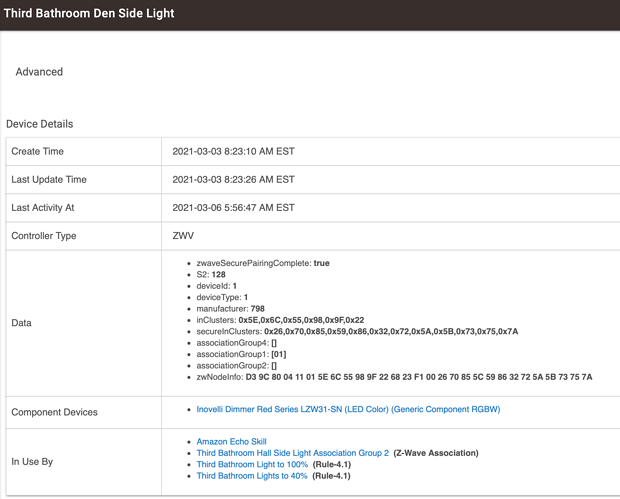 Hall Side Light. Line only. Source for Association: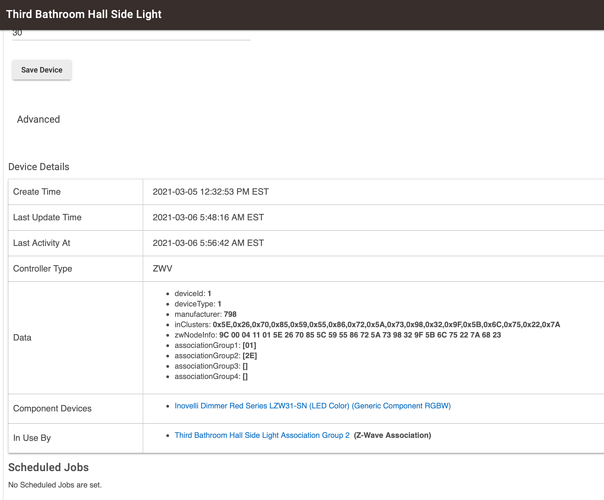 Association Screen Shot: