I have a weird 3 way situation I haven't seen up here. I have 2 Red Dimmers, V2, (LSW31-SNs) and a GE 46199 Aux switch as an add-on if need be. I'll be using Hubitat once they are wired up, so I would also appreciate what settings I have to do there.
Box 1 has a neutral, a common for power and 2 travelers.
Box 2 has a common, which my electrician is convinced is going to the light and 2 travelers.
I've included photos below, but please note the pictures were taken while we were taking the switches on and off trying to figure out how to wire it and does not reflect either the original situation or any set up I tried.
Box 1.
Note: One traveler (purple wire) was capped off while we were working on it as are the neutrals. The neutrals were not being used in the original set up.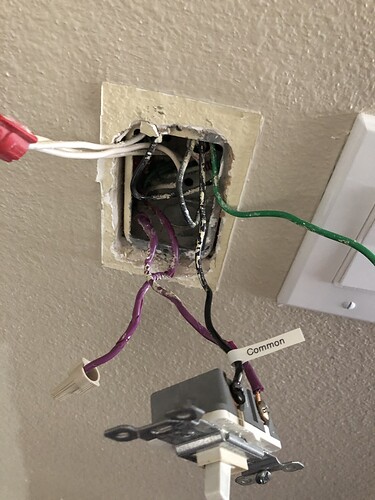 Box 2. Common goes to the bulb.