DISCLAIMER

While we (and our community) try to keep these instructions up to date, it's often hard due to the many updates to our firmware, Home Assistant app & platform changes, as well as many other factors outside of our control. If any updates/edits need to be made to these instructions, please comment on this thread so we can keep it up-to-date:

Wiki - General Feedback/Suggestions Thread

COMMUNITY DRIVEN

Our entire Knowledge Base (which includes manuals) is community driven. This means that we at Inovelli work together with our amazing community to keep articles up-to-date. We'd love it if you'd contribute in any way you can, be it making edits, submitting how-to's so others can learn, participating in our innovation projects, or simply commenting on threads. Thank you so much for your support and dedication to really making an impact in the smart home market.

Community Knowledge Base

NOTE: All of the pictures can be clicked on to be made larger. Also, if you're on mobile, you can either click on the pictures or turn your phone side-ways and the pictures will become larger.
---
Overview
This is the, "Known Issues & Troubleshooting" for the Blue Series Smart 2-1 Switch (On/Off or Dimmer).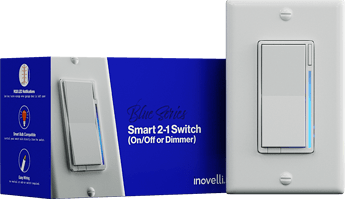 NOTE: Package shown may be different than the current packaging.
On this page, we will outline some known issues as well as how to troubleshoot them (if applicable). If you do not see your topic discussed, feel free to either reach out to us or start a new thread.
THIS PAGE DOES NOT INCLUDE TROUBLESHOOTING WIRING ISSUES. WE CANNOT HELP DUE TO INSURANCE & LIABILITIES.
---
Bulb Flickering
This is a fairly common issue, but hard to diagnose the reasoning why. Below are two difference scenarios, please choose the one that best describes your situation.
Bulb(s) Flicker At Various Levels
In this scenario, your bulbs will flicker towards the top (dim max) or the bottom (dim min) of your dimming. In other words, you may have smooth dimming at some levels, but either when the light hits around 80% and above or when the light is between 0-20%, you may experience flickering.
Bulbs Flicker When Light is Brightest
To solve for this, the easiest way is to pair your switch to your hub and set the max dim level (Parameter 10).
With your switch paired to your hub, start by seeing at what value your bulb starts to flicker.

The easiest way to do this is to type in a value and see – start by setting the dimmer to 95%, if it still flickers, move down to 90% or until it stops flickering.

Let's say you determine that your bulb(s) flicker when you set the dimmer to 85%, but do not when you set them to 84% – 84% will become your max dim level setting
In your hub app, under the device settings, find the setting for, "Maximum Level" and type in 84 (this is what we used as an example above – yours may be different)
Save it and turn off your light – wait a bit for the settings to stick and then try turning on your switch and holding down on the top of the paddle to dim up
You should now be able to dim and it will not flicker when you reach the brightest part of your bulb
NOTE: When you change the, "Maximum Level" setting on your switch, that level will now become 100%. For example, if you set 84 as your maximum level, now when you go back to the device it should read 100% as 84 is the highest you can go.
Bulb(s) Flicker / Flash Always
In this scenario, you turn the light on and it starts flickering or flashing causing the light to be unusable. Here is an example:
There are a couple of reasons this may happen and the first one is that the bulbs are not dimmable. Please ensure the bulbs you have are dimmable bulbs.
If they are dimmable, this issue typically happens in a 3-Way (or multi-way) setting when a, "dumb" switch is wired at the other end and multiple bulbs are on the load. There are capacitive loads in each bulb and with too many bulbs connected, the traveler circuit gets overloaded and interferes with the signal the smart switch receives. When that happens, the switch has difficulty identifying whether the load is in traveler state or load state. Reducing the switch max level effectively reduces the interference and the switch can correctly identify when the load is in traveler or load state.
To fix this, please follow the steps below:
Turn off the lights (if they can't turn off, it's ok)
In your app, look for the setting for, "Maximum Level" and change it to 90 (change this setting even if you plan to use this as an on/off) – try turning it on again
If it's still flashing, bring the value down to 85 and then keep going lower until it stops – if it doesn't stop, then unfortunately you have an incompatible bulb and you will need to replace them (or you can try an auxiliary switch)
---
Signal / Routing Issues
If you are experiencing any sort of signal or routing issues and purchased the switch from our first pre-order (any time between April 2022 through October 2022), please check your IEEE (Zigbee ID) as you may have a switch that was part of our recall.
IEEE numbers that fall into the recall range are as follows:
943469xxxxxxxx
385B44xxxxxxxx
The easiest way to check your IEEE number is to look inside the box and there should be a little slip of paper that has a QR Code as well as the EUI and Install code on it. The EUI is the same as the IEEE.
If you've thrown out the box or cannot find the slip of paper, you can scan the QR Code on your switch.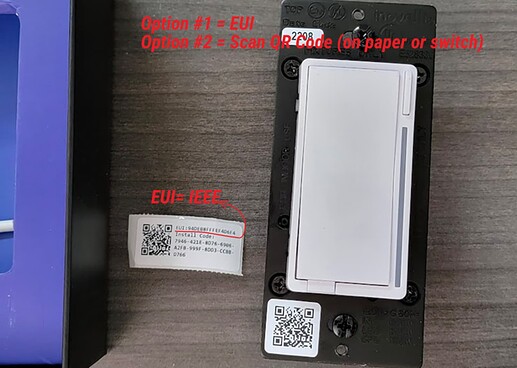 If you believe you have a switch with one of those IEEE numbers above, please fill out this form and we will get you a replacement: Microsoft Forms