While we try to keep this article up to date, it's often hard due to the many updates to our firmware. If any updates/edits need to be made to this article, please comment on this thread: Wiki - General Feedback/Suggestions Thread
About the Product Page
The purpose of the product page is the following:
Product History: see what inspired it, how it evolved over the years, and where it is now
Resource hub: provide links to hub/gateway specific resources (setup guides, how-to's, manuals, etc), certifications (Z-Wave, ZigBee, FCC/IC, UL, etc), and more
Click on the side-bar (on desktop) or bottom red bar (on mobile) to navigate the table-of-contents to quickly find what you're looking for.
---
Product Overview
The Red Series Dimmer Switch is a Z-Wave enabled smart switch introduced in November 2019 by Inovelli. It is the flagship product, and higher-end version of the Black Series Dimmer Switch with additional features such as notifications, scene control[1], and power monitoring. As of 2021, the switch is sold in both single and 10 packs across the US and Canada with over 80k units sold.
The first-generation of the Red Series Dimmer Switch was not known by its current name, but rather it was simply called a, "dimmer switch with scenes" (NZW31-S). The same premise held true in that extra features were added to this switch above and beyond the base version (NZW31). This switch was launched in December 2017 and discontinued in December 2018 due to a conflict with Inovelli's first manufacturer.
The second-generation (current) opened for pre-orders on Super Bowl Sunday 2019 with an entirely new look from a hardware standpoint and a completely revamped firmware becoming the first Inovelli product built from scratch with a brand new manufacturer. The goal of this switch was to provide a product that was fully customizable and could be installed in almost any situation. The switch was officially launched in November 2019 after significant delays and quickly became the top SKU of the Inovelli portfolio.
Both generations are powered by Z-Wave's 500 Series chipset and in 2021, Inovelli has expressed interest in upgrading the second-generation to the 700 Series chipset to match their Fan/Light switch. However, they are still pursuing a timeframe and cost.
To learn more about each generation, please click the dropdowns below:
First Generation
The original Red Series switch was announced in Q3 2017. At the time, it was not known as the Red Series, but rather it was marketed as a, "dimmer switch with scenes". During 2017, Inovelli was known more for creating and selling smart plugs (indoor and outdoor) and switches were a new territory. The manufacturer Inovelli used at the time had an abundance of white-label products that were sold by competitors and looked identical to most switches in the market. Inovelli took these white-label switches and tweaked the firmware to make it unique and catered towards the power-user. In its one year run, the first-generation Red Series Dimmer Switch sold over 10k units in the US and Canada.
About

Make: Inovelli
Model #: NZW31-S
Amazon ASIN: 5T-LN1F-EDKP
UPC: N/A
Project Name: N/A
Status: Discontinued (Replaced by: Gen 2)
Important Info: Manual, Wiring Schematics
Specifications


### Hardware

Features

Technology: Z-Wave Plus
Z-Wave Chip: 500 Series
3-Way Compatibility: Works only with a dumb (existing) on/off switch (no dimming)
4-Way Compatibility: Works only with a dumb (existing) on/off switch (no dimming) and Line/Load must be in the same box
Z-Wave Scene Enabled: Add up to 10 Z-Wave Scenes (ie: multi-tap to trigger a scene/routine directly from the switch)
Accessories Included: White & Almond Faceplates/Paddles and a Neutral Wire Jumper

Specs

Neutral Wire Required: Yes
Max Wattage: See below – maximum will vary based on bulb type and whether the heat sink tabs are removed or not

Heat Sink Tabs Not Removed: 500W Incandescent, 150W LED
One (1) Side Heat Sink Tabs Removed: 400W Incandescent, 150W LED
Two (2) Sides Heat Sink Tabs Removed: 300W Incandescent, 150W LED

Power: 120V AC, 60 Hz
Operating Temperature: 32-104 °F (0-40 °C)
Signal Frequency: 908.42 MHz
Range: Up to 100 meters line of sight between the Wireless Controller (Hub) and the closest Z-Wave Module
Indoor/Outdoor Use: Indoor use only.

Firmware

The latest iteration of firmware for the NZW31-S was for the date-code 0818. However, if you're looking to update to the latest firmware, please reach out to Inovelli first as there was a separate SDK used before April 2018 and if the wrong firmware file is used, it will brick your switch.

Charts to come – a lot of information was lost in transition between manufacturers.

Parameter Chart
Command Class
Association Chart

Certifications

Compatible Hubs

List out compatible hubs in a table and hyperlink to a brand new page that has setup instructions, code needed (if any), etc -- this way community members who specialize in those hubs can edit those specific pages.

Known Issues

List out any known issues and what was done for a resolution. Make each issue an h3 so it will have its own anchor text that can be linked to.
__________
Second Generation
Inovelli announced the second generation Red Series in February 2019 on Super Bowl Sunday. In the first 24 hours of announcing the switch and opening up pre-orders, Inovelli sold over 1k units, making it the most popular switch to date in the portfolio. To this day, the most impressive part of the first 24 hours was that these units were sold based on a Photoshop rendering and hopes and dreams of what the switch would potentially do. Inovelli attributes this success to the fact that this was the first truly community built product with lots of brand momentum stemming from its first generation switch.
From start to finish, the project took nine months to complete, which was five months longer than anticipated. Initially the manufacturer of this switch said it would be a four month project, "because it's just a light switch, we built Ring's keypad in 3.5 months, certainly we can build a light switch in 4", however, the manufacturer quickly realized this was more complex than initially thought. In November 2019, the switch finally came to fruition just in time for Black Friday.
Features include an RGB LED bar that has built in animations, scene control (ie: Z-Wave Central Scene), energy monitoring, smart bulb mode, local configuration, dimming calibration, non-neutral compatibility, and multiple ways of installation (ie: works with an existing dumb switch or auxiliary switch).
To date, Inovelli has sold over 100k units across North America and the Red Series Dimmer continues to be the flagship product.
About
Make: Inovelli
Model #: LZW31-SN
Project Name: Lights Out
Status: In Market
Important Info: Manual, Wiring Schematics, UL Listing
Product Inspiration
The Inovelli Red Series Dimmer (and On/Off Switch) were the first community driven projects. While most of the history was lost when Inovelli migrated over to the new forum structure, these switches were developed in partnership with hundreds of community members. Inspiration was also taken from feedback from Inovelli's first generation switches (from tickets, forum requests, etc). With a whiteboard full of ideas, requests and more, it was truly a pipe dream to pull off this switch that seemingly included everything anyone could think of.
Going into the design of the switch, Inovelli wanted this switch to be as customizable as possible. The thought process was that no one person's house is the same, so why should their smart switch be the same? With this in mind, Inovelli tackled the switch from two areas: hardware & firmware
From a hardware side, Inovelli wanted something that would be distinctive yet still maintain a classic, "decora" design. In other words, if someone walked into a house and looked at the light switches, they would immediately know it's an Inovelli switch. This is where the LED bar and configuration button inspiration came from.
Moving past the design and into the features of the hardware, the most requested feature was a switch that worked in a non-neutral setting. In addition, feedback over the years told Inovelli that people either preferred to use a dumb/existing switch or pay extra to have an auxiliary switch (so that dimming could be used at either end) – the new Red Series Dimmer should have the option to work with both.
The firmware side of things was really a continuation of the first generation Red Series, but Inovelli added notifications and energy monitoring. The inspiration for notifications came from our talks with Ring in that they mentioned they wished there was a solution for false alarms. HomeSeer had something similar in that their newest switch had small LED's that could change colors based on events. The issue Inovelli found was that those LED's were very small and hard to see from across the room. The team thought, "let's make an entire bar that's hard to miss and add in animations to catch the eye".
NOTE FOR ERIC: ADD DROP-DOWNS FOR EACH FEATURE AND WHERE INSPIRATION CAME FROM. THIS PARAGRAPH IS GETTING LONG.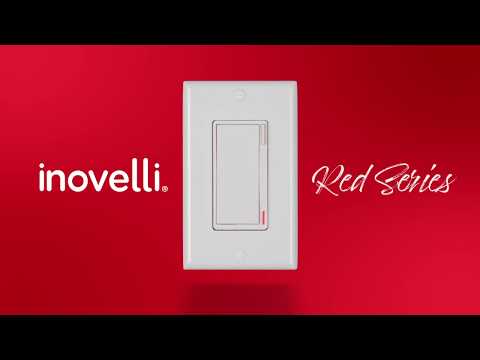 Specifications
Please click on the dropdown below to see the hardware and firmware specifications.
Hardware


#### Features #### Specs
Firmware


The current production firmware of the Inovelli Red Series Dimmer is 1.57, whereas the current beta version is 1.61. #### Features #### Specs
Compatible Hubs
List out compatible hubs in a table as well as what works / what doesn't work with those specific hubs.
Known Issues
---
Resources
Please see the below categories for specific instructions related to your hub/gateway. If you don't see any for your specific hub/gateway, please follow the generic hub instructions. If you'd like to contribute to setup instructions so others can benefit, please let us know!
Setup Instructions
Please click on the below hyperlinks to be taken to the setup page for your hub.
How-To's
Please click on the arrows below to see all the how-to's for your specific hub/gateway involving the Red Series Dimmer.
SmartThings
Other Resources